Giving birth to a new life is an amazing experience. It is the beginning of a great adventure full of surprises and twists and brings a great responsibility. When our son was born, he became the center of our very existence.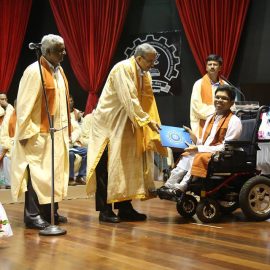 We named him 'Pratyush', meaning early morning sunlight. Time flies and soon he was a one year old. All his milestones have been normal. He started walking with support and we were waiting for that magical moment when he would take his first independent steps. Days became months and there were no signs of him being able to stand on his own. This made us worried and the first visit to the pediatrician began which slowly led us to more specialized doctors such as orthopedicians and neurologists. After a series of tests and a muscle biopsy came the devastating and shocking news that he is affected by the genetic disorder called "Spinal Muscular Atrophy". Our world came shattering down. We could only understand that he will be immobile for life. Doctors could not tell us either the prognosis of the disease or life expectancy of the child. The awareness levels even among the doctors was extremely low. There was no Google to search on or other parents with similar kids who could share their experiences.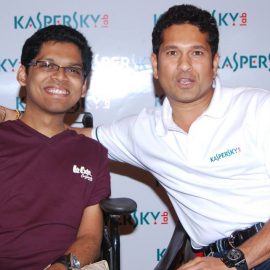 Immediately after the diagnosis, my husband had to leave on official duty for 3 months. This left me all alone with the little one which made me go into a deep depression with an aversion for life. I went to a point of attempting suicide and started looking for various means to end my life along with my son. But one small positive thought entered amid all these and gradually grew into a big tree of positivity. As I started looking from the other side of the coin, I slowly understood that it need not be the end of life. It is going to be an uphill task full of challenges but not impossible. We slowly accepted that his condition cannot be changed, and we need to concentrate on what he can do within his limited mobility. Following this, we decided that we will bring him up on par with all other kids and prove to the world that he can have a complete life despite all the physical restrictions and societal discrimination. And thus, we embarked on a mission to make Pratyush an independent and self-confident person.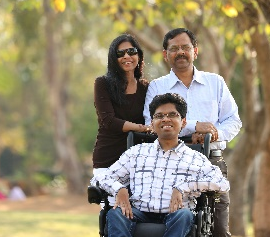 The society we live in is unfortunately very unfair to differently abled with several superstitions about them. They are generally looked upon as objects of sympathy and pity with a lack of awareness and empathy. With a positive attitude and lot of courage and will power, we ignored those who talked negative of him and made ourselves emotionally strong.
At the age of 4, I was advised by the physiotherapist that Pratyush is gaining weight and I need to put him on a diet. I was shocked and surprised as I did not understand the relevance of maintaining adequate nutrition to prevent obesity and the accompanying health risks in such a small kid. Subsequently, I understood the importance and cut down on all fatty food and increased the protein intake. A delicate balance needs to be struck between calories, fat, protein, and carbohydrate intake. I follow this strictly even today.
Scoliosis was another new term introduced to us around the age of 7 to 8 years. As muscle weakness progresses in the back muscles while the child continues to grow, gravity pulls down on the spine and curves develop, causing scoliosis. There is a correlation between scoliosis severity and lung capacity. Not controlling this can lead to severe respiratory dysfunction. We initially used a brace to support the back, but it did not prevent the further increase of curvature. He underwent a surgery at the age of 10, when Cobb's angle reached 59 degrees to preserve pulmonary function, comfort, appearance, and overall quality of life. It was a 12-hour long surgery conducted at Lilavati Hospital, Mumbai by Dr Ashok Johari. With God's grace, recovered soon with a better spine condition.
Admissions to normal schools was a Herculean task as school authorities would demotivate and instead advise us to admit him in special schools. My husband's regular transfers added to our woes. With great difficulty, we would get him admitted to a school and within a few years, we had to change his school because of a transfer. None of the schools were disabled friendly and we had to face both structural and attitudinal barriers. Well educated teachers are no different from uneducated people and we confronted many bitter experiences in different schools across India. But, with his academic success, we could see a big change in their attitude and later had become more friendly towards him.
As a young child, Pratyush was always delighted to see a computer. This made us enroll him in computer courses as early as 5 years of age. He took like a fish to water. Then he joined an NIIT course at 7 years of age where he learned SQL and Java. Observing his progress, we enrolled him for Microsoft certification courses. He successfully completed them and became the youngest Microsoft Certified Solution Developer (MCSD) in the world at the age of 9 years. In the following summer, he did a one-month internship at a software company called Mastek. As academic pressures increased, he shifted his focus to school wherein he constantly excelled in academic and extracurricular activities. His hard work, focus, and dedication with continued perseverance brought him a lot of awards and recognition at the national and international level. People started looking beyond his disability and regarded him on par with normal students. He did his Master's in Computer Science from Columbia University after finishing his undergraduate study in Computer Science and Engineering from IIT Bombay.  He has evolved into a young, cheerful, confident, and empathetic person.
Genetic disorders impact not only the physical health, but also the psychological and social well-being of the kids and their families. We lived one day at a time, concentrating on the present and not dwelling in the past or worrying too much about the future. If there is one thing I have learned in this journey, it is to fight for what is right and what I believe in. When we can't change the circumstances, we need to adapt to the situation in the best possible way and keep moving forward.
At present, we have three US Food and Drug Administration (FDA) approved drugs for the treatment of all forms of SMA.
Spinraza (nusinersen) by Biogen is the first medication approved by the US FDA. The cost of the drug is beyond anybody's reach. The other drugs approved are Zolgensma by Novartis and Risdiplam by Roche. Unfortunately, no drug is available in India and the SMA community is facing enormous challenges. I sincerely request the Government of India to bring the available medicines to our country and save the precious lives of our children.
At the end, I would like to say anyone who loses all hope and thinks this is the end should understand that it is just a bend, not the end and have faith in God.
"My child is not a statistic, not a number, not a diagnosis, but a human being with different abilities taking on a difficult world. He proves every day that he is a miracle and that he will never give up. I am his voice and he is my heart."