My name is Karan Sunil Shah. I am 21 years old. I have type III Spinal Muscular Atrophy or SMA. SMA is a genetic disease that affects the motor nerves that control voluntary muscle movement.
It was tough growing up especially in a city like Mumbai which is not wheel-chair friendly at all. My parents had to search for schools and colleges that would accommodate me. Many schools rejected me assuming that I was also mentally incapacitated. People do not realize that SMA does not affect the intelligence quotient of any person. I finally went to Aditya Birla Integrated School, which was known as JBCN, but it was not very wheel-chair friendly either. However, the school provided me with special aid and helped me adjust and overcome my dyslexia. Making friends initially was not easy. I was judged about my condition, but my communication skills became my icebreaker. I soon became notorious for being the mischievous kid on the motorized chair. I was known for pulling pranks and being the smart-ass. I was the speaker every annual day function.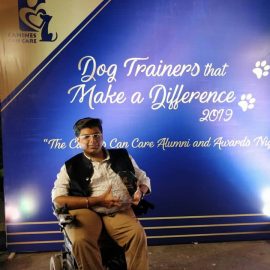 My older brother too had SMA, his being type II. He passed away due to a cardiac arrest at the age of 14 years. He was just a year older than me. It was a trying time for me and my parents. A few years later, I had enrolled for Shamak Davar's dance classes, which he conducts for special needs children and kids with cancer, etc. Once he came home to meet me and told me I needed an angel in my life. It made no sense then but soon after, he gifted me a female Labrador pup called "Angel". Being a dog-lover, I was thrilled. I went on to then Google search for a trainer who could train my puppy. I came across Shirin Merchant who advised me that it should be me and not anyone else who should train my pup. So I undertook her training course and learned to become a Dog Behaviorist myself. Angel is a very mischievous (like me) and active dog with lots of energy but also receptive to learning. She is now 5.9 years old and I have trained her to perform several tasks.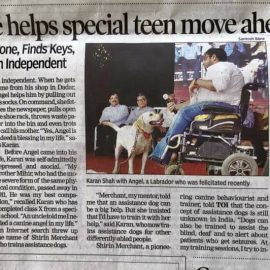 These include:
• Removing my socks when I reach home.
• Putting away my shoes in the shoe drawer.
• Handing me keys to lock my cupboard.
• Pulling the blanket over me when I'm lying down.
• Calling my mother on command: she goes and barks at her three times.
• Fetching the morning newspaper which she usually hands over to my dad.
• Bringing my phone.
• Following the Swachh Bharath Udyan: will pick up trash and put it in the bin.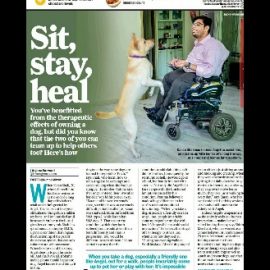 I continue to teach her new things even today. Angel & I also make the best tag team, where we go to schools, colleges, NGO's, old age homes etc. and spread awareness on how to have a positive approach towards life and yes also Angel gets an opportunity to show of her skills! We also do therapy sessions with children / adults with mental stress or disability.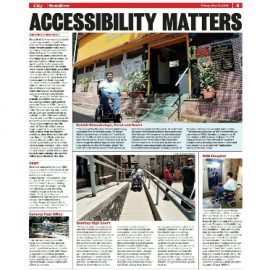 SOCIAL LIFE
I have a few select but close friends that I hang out with. Going out to restaurants is a task because I have to call and check on their ramp access. Many a times, I must send someone to check out the premises in person. I love watching Bollywood movies but again most theatres are not accessible for me. Like any young guy, I religiously follow social media sites. I occasionally write articles on my Facebook page and have over 30,000 followers on my Tic Tok app profile. Funnily, I have also received marriage proposals from viewers who watch my videos on this app.
What keeps me busy
I divide my week between two jobs: one being working at the family business of a retail clothing store and manufacturing unit for garments and the other as a Professional Certified Canine trainer & Behaviorist. I also volunteer with WSD or Welfare of Stray Dogs, a local NGO in Mumbai.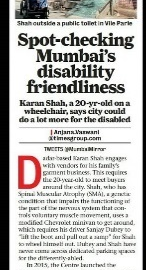 What were some of the challenges you faced and what is your advice to patients who face similar challenges?
Not finding wheel-chair access easily has been the biggest challenge for me. I hope that changes in a big metro like Mumbai. I believe that it is the normal people who require advice and education and not people like me. I want to tell the 'normal' person, that we do not need any pity, sympathy, or guidance on how to live our lives. I am neither special nor disabled, I'm just me! To further emphasize on this point, I have started a hashtag called#differentlynormal which can be found on Facebook and other social media sites. Recently I was doing marketing for our new manufacturing unit, and I was visiting local garments stores door to door all over Mumbai. In the process I suffered a lot when it comes to nature's call as I realized that none of the Sulabh Shauchalaya are wheelchair accessible, and the pain I suffered from, no one can understand! There is so much awareness on #SwachhBharat and all, but where do people like us stand in such campaigns when it's not accessible at all! From Dadar to Vile Parle, I had crossed many Sulabh Shauchalaya's and only one was accessible that also not 100%! Hence this petition for all those people who suffer due to lack of accessibility. It's not only Mumbai, but even on highways etc. hardly one or two accessible! I have a list of the Sulabh Shauchalaya in different areas, and whether they are accessible or, and the results are disappointing. I DEMAND BASIC NEEDS. I DEMAND ACCESSIBLE TOILETS. #ACCESSIBLETOILETS #KARANSHAHH
Achievements
Bharat Prerna Award
Student of the Year Jr. School
Student of the year Sr.School
Angel receiving Brave Heart Award from Government
Angel awarded best dog of the year 2019